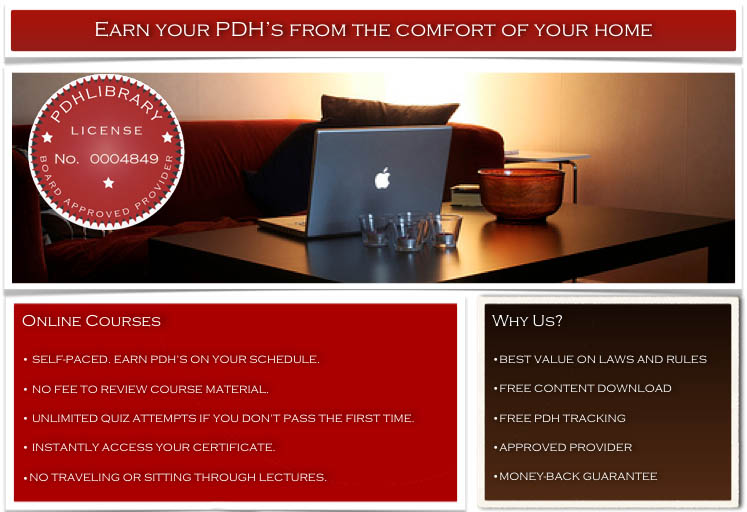 PDHLIBRARY - PROVIDING CONTINUING EDUCATION FOR ENGINEERS SINCE 2009!
WEBSITE UPDATE: We have made several upgrades to the website. PDF formatted certificates of completion are now available. Permanent records of your passed quizzes can now be reviewed inside your account. Courses can now be purchased before or after completing the course quiz.

How to Take one of our Engineering Continuing Education Courses

1) Create New Account: Register with our website by clicking on the "Create new account" link (found in the lower left hand corner) or log into your account if you already have one. Note: You will pay for the course after passing the quiz.

2) Download Course Materials: Navigate to the course description page of your choosing. On the right hand side of each course description page is a download button that you can use to download the course materials to your computer. Read the course materials.

3) Take Quiz: Log into your account. Then click on the quiz button on the right hand side of the course description page to take the quiz and pay for the quiz. Take the quiz as many times as necessary in order to pass with a 70% or better. You may start the quiz, stop, and then return to the quiz at a later time to finish.

4) Pay for Course: When you pass the quiz, a green checkout link will be provided for course payment via credit card processing thru PayPal's secure servers. ALTERNATIVELY you can also pay for the course first and then take the quiz. The order does not matter.

5) View Certificate of Completion: To view your certificates of completion or to review your course history, click on "My account" followed by clicking on the "Courses Taken" tab. You must be logged in your account to review your course history.